Are you looking for a Used Car Dealer to buy a certified pre-owned car from?
If you are trying to use Autotrader to find used cars dealers in your area but are not sure exactly what you are doing, do not worry!

In this article, you will find informative information on how to use Autotrader to find the best used car dealers in your area along with the best cars for sale and car prices to give you complete peace of mind.
How to Find Used Cars Dealers Near You Using Autotrader
Autotrader is a buying and selling site that allows people to safely buy and sell used cars. You can start searching for used cars by going to www.autotrader.com.
For a guide on how to use Auto Trader's expert car reviews to your advantage, be sure to watch the following video:

Trying to sell a car?

1. Click on Sell my car
2. Enter the location zip code
3. Select the ad package you want
4. Enter the ad information about the car you are selling
5. upload the detailed photos making sure that the photos you choose are good quality
6. Review your Ad making sure everything is correct
7. Make the purchase for your ad

How to use a checklist along the way while creating your ad. Here is a walkthrough on the checklist that you can follow while you are writing your ad:
1. Make sure you are including all of the basic information about the car you are selling. This information should include The make and model, the year, The Style, The mileage, and the price you choose to sell the car for. The VIN is not required but it will help Autotrader get your ad out to as many prospective buyers as possible.
2. List of standard equipment included with the purchase. This is an optional perk you can include.
3. Mention some of the best qualities of your car. Include as much information as possible to catch the attention of buyers.
4. Upload photos of good quality of the vehicle you are selling. You can Ad either a single photo or up to 27 photos, but it is best to include as many detailed photos as you can.
5. Enter your form of payment. Autotrader accepts Visa, American Express or Mastercard and Auto trader is a secure site that you can trust.

If you don't have a digital camera there is no need to run out and buy one. All you need to do in that case is to take your camera to any photo processing lab and ask for a photo Cd. From there you can insert the cd into the computer drive and save photos to your computer. You can also choose to turn photo prints into digital form by scanning the individual photos to your computer by using your scanner if you have one.

Don't worry if the photo's you upload don't display as soon as you post your ad. If typically takes at least a few hours after your ad has been posted to go live, but it could take a total of 24-48 hours to see the final product.
How To Go Back In and Edit Your Ad
Once you post an ad you will receive a confirmation email with an edit link with your Ads ID. You can click the link and use your Ads ID to log in and from there you will follow the instructions to or remove the Ad. If for some reason you can't find the edit link in the email that Autotrader sent you, you can also find the edit link on Autotraders home page.

Sometimes sellers may receive phone calls from telemarketers but if that happens there are steps you can take to block them.

1. Reduce unsolicited telemarketing calls by registering your numbers on the national do not call list.
2. The registration is free and you can go to www.donotcall.gov or call 1-888-382-122
3. When you get an unwanted telemarketer call, you can request to have your number add to that company's do not call list.
4. If the telemarketer is violating the do not call rights you can take note of the phone number and the name of the company and report an online complaint with the federal trade commission at www.donotcall.gov.
How to Find Out if the Ads Listed on Autotrader are Trustworthy to Buy From
Although there is no simple way to prevent fraud, there are steps you can take if you become an unfortunate victim of such a crime.

1. If you are a victim of a scam on Autotrader, you can complete a form on the AutoTrader site and complete the I was scammed form. You must include as much information as possible in order to better serve you and the situation you are facing.
2. Autotrader encourages both sellers and buyers to report any suspicious activity including emails or voice messages by sending an email at fraudwatch@autotrader.com. You can also speak to a customer service representative by calling 1-877-742-8040. The hours are Monday through Friday from 9 am to 6 pm.
3. Lastly, you can file a complaint with the internet fraud complaint center. This would be to inform authorities of federal and state law. It is encouraged that you also report fraud to your local police department.
Pros and Cons to Using Autotrader.com
Pros of Using Autotrader:

1. The website is easy to understand and will help you select the right car that fits your needs
2. Autotrader gives buyers and sellers tips on what they should do to be successful.
3. You can use the comparison links with photos, videos, and reviews in order to help you make your important decision.
4. They have discounts and specials for you to consider
5. Financing options for you to use and calculate monthly payments
6. They offer Warranty's
7. Free car insurance quotes
8. Vehicle safety and history reports

Cons To Look Out for on Autotrader:

1. Avoid searching for cars on the find cars for sale tool that is located on the home page because it will pull both used and new cars together
2. The Trade in the marketplace is not available in all areas and vehicles will not be eligible to get offers from the potential buyer.
3. No information on Car loans
4. The instant cash option is only valid for 72 hours
5. Cash offers are not able to be redeemed or make a purchase of a customer's vehicle
6. The offer is valid using an appraisal tool and it may not show the highest sale price or trade-in value
7. The vehicle must pass a mandatory inspection through a participating dealership. If the inspection report is different from the customer's description, the dealer may adjust their offer.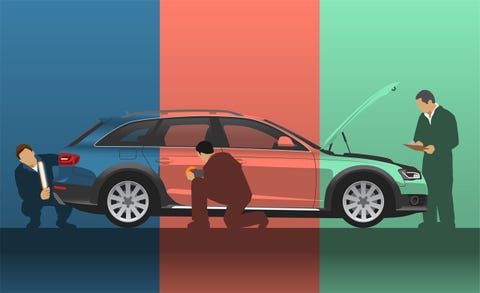 8. Participating offers are not owned or operated or affiliated with Autotrader.
9. Autotrader is not liable for any adjustment of the offer or refusal to accept any vehicle by a participating dealer.

As of recent Autotrader.com has the biggest new and used car listings online. It has been determined that there are often too many listings to choose from. Autotrader.com lists research tools information and resources to help consumers with there shopping experience. Autotrader also fulfills as much as 14 million qualified buyers each month and appears to be easy to use with a trusted way to shop online.

There are so many great consumer reviews that Autotrader may be one of the best sites to shop on in 2019. When you use Autotrader they offer VIP services with prices available from $159 to $289. These packages feature benefits such as pricing advice, privacy shields and solicitor blocking as well as call screening. Overall it's a very good website to use.
5 Best Online Car Buying Sites Next To Autotrader
1. Hemmings.com

Hemmings.com is one of the best websites to use is for classic car lovers. This site is specifically for people who like to collect cars. There is a variety of cars a buyer can find from the 1960's Chevrolet to Studebaker's 1930 old fashioned cars. This site offers daily newsletters with a blog that is updated on a regular basis.

2. Autolist.com

Autolist.com is the best site for customers to browse on the go and it has the accompanying mobile apps supported through Android and iOS which makes it unique to other auto sites. The Software allows easy access to the site for smooth searching at the touch of a finger.

3. CARGURUS.com

Cargurus.com is a good car shopping website to find bargains. CARGURUS goes by dealer reputations and the site helps educate buyers with good information. This website also will let you know how long a vehicle has been listed and when the best time to shop will be.

4. Autotempest.com

Autotempest.com is a site that shows comparisons between sites such as eBay Motors, Cars.com Autotrader and cars direct. Autotempest homepage focuses on an all-around net comparison so the consumer can easily see them and quickly decide which is the best vehicle price. This site also provides a specification for the selection of cars make and model.

5. KBB.com

KBB stands for Kelley Blue Book and it is primarily used for estimates on what your car is worth. You can quickly browse through car listings and calculate what the monthly payments will be and compare several different cars that you may be interested in. This site also provides expert customer reviews with options of local dealerships.

These sites are only a few good sites out there, but there are many more out there. You can get started today and search for the site that interests you most.

For more information on how to find the best used cars for sale and where to find the best used car dealerships to buy them from, be sure to take a look at the following related articles.

Related Articles:
Find Used Cars In Columbia SC With Vehicle Warranties
How To Find The Best Used Cars For Sale At CarMax
How To Find Columbia Dealerships That Rent Cars
Find Car Lots Near Me To Buy My Next Car From
Find The Best Used Trucks Columbia, SC Has Available
Find Dealerships In Columbia, SC For Government Car Auctions
Find The Government Auto Dealers Columbia, SC Has Available
How To Find Government US Auto Sales In Columbia, SC
How To Find the Best Chevrolet Columbia, SC Cars For Sale
10 Best Columbia Car Dealerships For Pre-Owned Vehicles
Find Car Dealerships In Columbia, SC To Buy Used Cars From
20 Best Used Cars Columbia, SC Has For Sale
Find Affordable Auto Columbia, SC Cars &Trucks For Sale
Benefits Of Used Car Buy Here Pay Here Car Dealerships
Benefits Of Car Dealerships Near Me With No Credit Check